Child Spanish Book – Learn Spanish
Teach Children Spanish
Fun Spanish – Books for Children



Teaching children Spanish at a very young age, as young as preschoolers or even toddlers has proven to be extremely beneficial. Young children learning Spanish have a higher retention level than when one learns as an adult. Try a mixture of our child Spanish books below to create a wonderful useful home library.
Very cute touch and feel child Spanish book written in simple Spanish words for teaching Spanish to a toddler or preschooler.
"This is not my …, he has a ….," etc.. with different textures on each page. Use this book with toddlers to spur toddler interest in spanish as well as textures. Studies show retention is so much greater when we begin teaching children Spanish at a very young age (especially to toddlers or preschoolers). Use these child Spanish book to start early with your child.
---
Spanish Books: Vaya Olor and Vaya Lio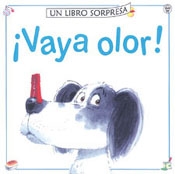 Vaya Olor
We're excited to offer this book for beginning readers to learn Spanish! We looked hard to find books in Spanish that would be a follow on to the typical "point and identify the image or color" to transition into simple Spanish text for early learners regardless of age.
I looked and looked, searching for the "next step reading books" to use when teaching children Spanish. Most first level learn Spanish books or books for teaching toddlers or young children Spanish, show a cat picture with the word "gato." I wanted something to begin Spanish grammar with simple repetition. All I could find were some classic books converted word for word to Spanish.
They were much too difficult for the "bridge" I was looking for (to cross my child over into the next level).
Then I found this hardcover book! Each page tries to discover, "Where is that smell coming from?" This book has simple Spanish repetition with only a few new words on every page, plus colorful drawings and fold out pages. It makes learning Spanish easy!
What a treasure for teaching children Spanish!
---
Vaya Lio
This is the companion book to Vaya Olor.
Very simple text makes it easy for your child to learn the similar words and begin to learn Spanish grammar from page to page.
Fold out sections (such as doors and curtains) make it fun to see who is making what smell or what mess.
Repetitive words make beginning reading Spanish fun!
---
Bilingual English Spanish Books
In our bilingual books, students can learn visual grammar layout while having fun at the same time trying to figure out the puzzle. There is a little bit of "I spy" going on in these books too, trying to find certain objects in the pictures.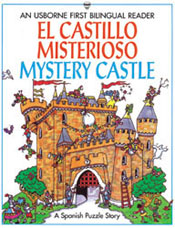 El Castillo Misterioso
This is the first of our English Spanish translation books.Based on Puzzle Castle in the Usborne Young Puzzles series, this bilingual spanish book tells a story in Spanish and English, with lots of fun picture puzzles to do in Spanish. Suitable for young readers of Spanish at all levels, each double page has a list of Spanish key words and phrases that readers can use to solve the puzzles and help Silvia find the monster lurking in the dungeons of El Castillo Misterioso. At the back of the book there is a comprehensive word list with a simple pronunciation guide for each Spanish word or phrase. Perfect bilingual Spanish book!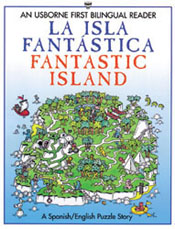 La Isla Fantastica – Fantastic Island
This is the second of our English Spanish translation books. This bilingual spanish book tells an adventurous story in Spanish and English and contains lots of fun picture puzzles to do in Spanish. Readers of all levels of Spanish ability, ages 7 and up, will enjoy applying and extending their language skills with this entertaining book. Even complete beginners can decipher the Spanish, using the word keys on every page. Detailed illustrations packed with things to spot ensure that the story can be read again and again. There is a comprehensive word list at the back of the book with a simple pronunciation guide for each Spanish word or phrase.
---
Pescadito
Rosa está aburrida, pero la Abuela está demasiado ocupada para darse cuenta. Está preparando tortillas para el mercado. Sin embargo, cuando un pescadito sale del agua y cae en el regazo de Rosa, eso ya no tiene nada de aburrido. En especial, cuando el pescadito empieza a ser un pescadote.
Esta historia del realismo mágico revive los colores, sabores y emociones de Méjico, revelándoles a los niños que la imaginación no conoce fronteras.
"Rosa is bored. At the beach she observes a clever little fish (Pescadito) who seems just too quick for the hungry pelicans, when suddenly it jumps right into her lap. She takes him home, where he grows with every turn of the page. She cooks ever more elaborate meals for him as he outgrows ever larger vessels. The little fish is about the size of a whale when her grandmother says enough is enough, so Rosa and her friends carry the Pescadito through the town and back to the sea, where he no longer has to fear the pelicans. The children have a party to celebrate his release. The delightful story abounds with elements of Central American culture, such as pan de muerto, Ave María, serapes, ocotillos. Full-color illustrations and large typeface make this book a wonderful addition for schools, libraries, and bookstores." – Críticas
Order Now
---
Explore Geography, Travel, and the Spanish Language
Let's Go Up! Climbing Machu Picchu, Huayna Picchu and Putucusi
A Photographic Journey-Inspiring a love of nature in the magical cloud forest of the Andes mountains. Putucusi and Huayna Picchu are two unique climbs with remarkable views of Machu Picchu.
Let's Go Up! takes the reader on a photographic journey, climbing up Huayna Picchu and Putucusi, two mountains overlooking the mystical Inca ruins of Machu Picchu.
Towering ladders, a steep tunnel, unique wildlife, and the magical surrounding scenery will surely excite children and inspire exploration, travel, and a love of nature. This bilingual book can be enjoyed across cultures. It could also supplement instruction to enrich the learning experience of English and Spanish students. Machu Picchu became one of the New Seven Wonders of the World on July 7, 2007 and attracts travelers from around the world. Let's Go Up! presents a fascinating viewpoint of Machu Picchu from the surrounding Andes Mountains in Peru.
---
First Thousand Words in Spanish
This bright and amusing book provides a wealth of vocabulary-building opportunities for beginner Spanish learners of all ages. Stephen Cartwright's delightful pictures encourage direct association of the Spanish word with the object, which will ensure effective long-term learning.
You can now find out how to pronounce every Spanish word in this book by listening to a native Spanish speaker on the Usborne Quicklinks Web site. At the end of the book there is an alphabetical Spanish/English list of all the words in the book.
---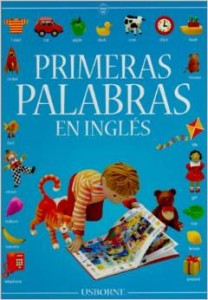 Primera Palabras En Ingles
While we have many books in Spanish, we also include this one to help learn English. This book includes more than 500 words to help teach your young Spanish speaking child English.
Numbers, shapes, people, how to pronouce words and much more! This is a wonderful book for someone whose native language is Spanish and they are now trying to learn English. The book can be used by both children and adults.
Numbers, shapes, people, how to pronounce words and much more!
---