Student Microscope Kit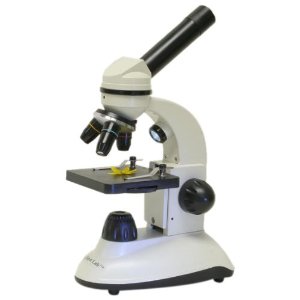 Kids Microscope Set – Student Microscope Kit
The Duo-Scope is a dual functioning biological microscope that incorporates modified objectives with dual cool LED illumination! This allows the user to view both microscopic sized specimens on slides as well as macroscopic (solid) objects like bugs, stamps and coins!
My First Lab Duo-Scope Microscope – uses are unlimited with dual lights. It has the flexibility to view both slides and solid items. View slides with the light shining up from below and view solid objects with the light shining down on the specimen. It is fun and educational for scientists of all ages. It includes over 50 pieces of accessories for hours of scientific research. It requires 3 AA batteries, which are not included. It contains glass and sharp instruments. Also it includes: vinyl dust cover, five plain slides, one concavity slide, four prepared slides, cover glass, plastic dropper, two bottles of stain, slide labels, lens paper, forceps, scalpel, plastic test tube, plastic Petri dish, straight teasing needle, and instruction manual and helpful hints. It features: 10X eyepiece; 4X, 10X, 40X objectives, 40X, 100X, 400X Magnification, real optical glass lenses, dual focusing knobs, two LED lights, and six hole disc diaphragms
---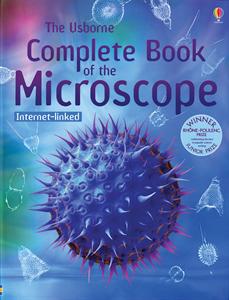 Complete Book of the Microscope
This book makes a nice addition to any child who owns a microscope. Winner of the Learning Magazine Teacher's Choice Award, The Usborne Internet-linked Complete Book of the Microscope is a breathtaking introduction to an extra ordinary new world. Fantastic photographs, a thousand or even a million times larger than life, reveal the secrets of the kids microscope world, from algae to atoms, dust to DNA and flies' eyes to flu viruses. The information-packed child microscope book also includes descriptions of Web sites where you can explore the micro world in more depth.
Get the most from your experiments using microscopes for kids by following step-by-step project ideas.
Practical information on buying and taking care of microscopes for kids is included.
How does an Internet-Linked kids microscope book work?
Usborne Internet-Linked books serve as a gateway to knowledge for fact-hungry children.
Visiting the internet site provided, enter the book and page number you are interested in learning more about. This site will provide you web addresses of safe, content appropriate websites you can visit to research a subject in a fun and informative way. School projects have never been so easy! No more rushing to the library for last minute research.
Just take this book to your home computer and in a few clicks you have tons of cheap child microscope research ideas. Save on gasoline and save on time!