Dinosaur Books for Kids
Dinosaur Lesson Plan Ideas ~ Adventures with Dinosaurs
Use our dinosaur books to create the perfect lesson plan or just an activity within your family. As children read dinosaur books and participate in dinosaur activities, they will learn about the wonders of animal and plant life, environmental issues, etc. and retain more information while having fun. You will be amazed at the results!
These dinosaur books are perfect for parents, teachers, home educators, day care providers, grandparents… anybody looking for a fun way to keep teaching preschool and elementary age children about dinosaurs!
Fill each day of the week (or just plan a fun weekend hour) with dinosaur activities! Our books help make learning fun. Your dinosaur lesson plans could range from journaling (draw pictures if not writing yet), to experiments, to using the internet to learn more to simple dinosaur crafts! Who knew learning about dinosaurs could be so exciting!
Skill Set Ideas
You might focus on these developmental ideas when planning your activity with your child.
Self-expression and intrapersonal skills
Visual spatial skills
Following directions
Sequencing
Environmental awareness
Zoology
Math skills including:
This is a small sampling of our child dinosaur books. See out full list all our Child dinosaur Books in our inventory.
See also:


That's Not My Dinosaur
about 10 X 10 inches; 22 pages, Hardcover
That's Not My Dinosaur
This delightful series of board books is aimed at very young children. Kids proceed through the textures in the book reading "That's not my dinosaur, his feet are too…" until the end when it is their dinosaur! The bright pictures, with their patches of different textures, are designed to develop sensory and language awareness. Babies and toddlers will love turning the pages and touching the feely patches. As toddlers grow they may eventually memorize text and begin to recognize simple words if you use your finger and point as you read.
---
Dinosaur Quiz Cards – Dinosaur Flashcards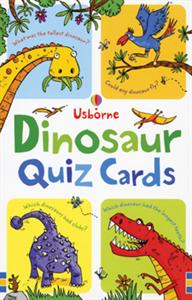 Dinosaur Quiz Cards
How much do you know about the incredible inhabitants of the prehistoric world? Open the box to find out, and make some new and surprising discoveries too!
ISBN: 978-0-7945-3262-8
Age: 6 years and up
Size: 4 x 6 1/8
Quantity: 50 cards
Series: Activity Cards
Author: Khan, Sarah
---
The Great Dinosaur Search


Order The Great Dinosaur Search
If you think your child knows all there is to know about dinosaurs, try this one of our dinosaur books for kids.
This 32 page dinosaur search puzzle book is full of the most fascinating facts about the amazing creatures that inhabited the Earth many millions of years ago.
But this is so much more than just a book of the dinosaur reign. With around a hundred prehistoric animals and plants to spot on every double-page, get ready for hours of serious fun. Find ferocious Tyrannosaurus in a tangled Jurassic forest, and spot packs of deadly Velociraptors hunting their prey across sandy plains. You won't want to stop searching until you've found them all..
---
Dinosaurs Internet Linked


Best Seller
Why is this a best sellerin our dinosaur books for kids? This child dinosaur book can be purchased for a young age where the child will just say, "cool dinosaur" at the photos. Then as your child starts reading, they can read the facts and later when your child is in middle school, now he or she can go on the internet and using the links provided in the book, accomplish a dinosaur reign report or project.
Using the latest theories and most recent discoveries, this dinosaur book brings to life the exciting world of dinosaur reign.
Dramatic artwork and photographs of realistic models show what the dinosaur reign was like, how they lived,and why and how they all died out. Lively step-by-step illustrations explain how they hunted, fed and cared for their young. OUT OF STOCK – Click Here for Alternative Idea
---
Dinosaur Lift the Flap Book



OUT OF STOCK – Click Here for Alternative Idea
Long ago, amazing dinosaurs roamed the Earth. There were gentle ones as big as houses, and fierce ones as small as chickens.Lift the flaps in this child dinosaur book to find out how these extraordinary creatures lived, and what the dinosaur reign was like. This is a wonderful book for a beginning reader (parents assisting) through 3rd grade. One of our more creative dinosaur books for kids.Children love to lift the flaps and often beneath the flap there is also some small text for your child to read.
---
The Dinosaur – Usborne Books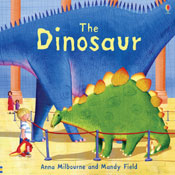 OUT OF STOCK – Click Here for Alternative Idea

Has your child ever wondered what real live dinosaurs were like? Once, long, long ago, at the edge of a huge forest, a baby stegosaurus hatched out of an egg.
Follow his adventures as he grows up and begins to explore the big wide world.
This adorable child dinosaur book has a washable puffy cover making it a nice gift. As you follow the baby dinosaur along, he learns to take care of himself, a wonderful idea to introduce to young children. The little boy in the museum also addresses what the world would be like if dinosaurs were alive today, allowing the parent to introduce imagination with their child and thus begin to explore the idea of "reading comprehension" and sharing thoughts about a story. This is a favorite of our dinosaur books for kids!
This is a small sampling of our child dinosaur books. See the full list of in our inventory.
See also: Dinosaur Puzzles