Preschool and Elementary Math Books
Young children will love this very special Farmyard Tales book. There's a game of hide-and-seek to play by lifting the flaps and lots of furry (touch and feel) textured patches. Plus we are counting too! Two cows in the barn, lift the flap and now there are three! You can also find a small duck on each page. This is a really delightful book for adults and children to share.
---

Illustrated Dictionary of Math
Everyone studying math needs this book. Its concise explanations, enhanced by examples and diagrams, provide confidence and understanding which is key to exam success. This book has over 500 definitions of mathematical terms and more than 300 illustrations and diagrams help to interpret, clarify and explain each subject. There are 100 worked examples show how to put theory into practice along with a detailed index guaranteeing easy access to information.
---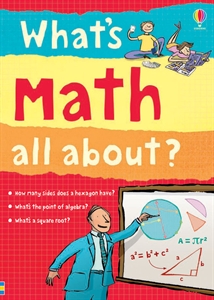 Whats Math All About?
Discover what numbers are, how they help describe the world around us, and find out how brilliant mathematicians have changed the world with their discoveries.
Reading Tip: Turn off your audio on your TV and turn on the caption fomat. Have your child watch their favorite program by reading instead of listening to the TV.
(From: The Literacy Network of Los Angeles)