Dog Stories and Caring for Your Pet
Dogs and Puppies – First Pets
This book is an essential guide for any young animal lover who wants to know how to look after a dog or puppy. There is lots of information about training, brushing and bathing, and even games to play with your dog.
---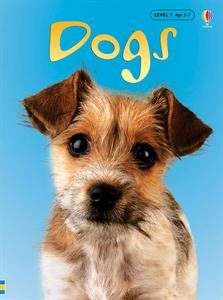 Dogs IR – Usborne Beginning Reader
How do dogs say hello?
Which kind of dog can't bark?
Why do some dogs bury their toys?
Find the answers and more in this charming beginning reader.
---
That's not my puppy
The imaginative use of textures in a board book about a puppy adds a delightful dimension for babies and toddlers. Bright illustrations and simple text develop sensory and language awareness. Very young children will love turning the pages to meet a number of different fun-to-touch puppies. Looking for a puppy baby book? This is a great one!
---
The Mugged Pug – Jack Russel Dog Detective
What's happening to the collars of Doggeroo? First Shuffle the pug gets mugged. Then the ranger catches him without his collar. So when Red's collar is stolen, Jack knows he has a case on his paws. Will an attack of the jack-pack be enough to nobble the mugger? Can Jack get to the bottom of – THE MUGGED PUG?
"A fun and fast-paced early chapter book young sleuths will enjoy." – Kids Bookshelf
---
Find the puppy
This book about a puppy provides very young children with the challenge of something to look for, amusing situations to talk about, and familiar objects to name.
Simple board book for babies where your child can locate the puppy on each page.
---

There are over ninety different dogs in this book. Using the descriptions and the pictures, try to match each sticker to the right entry. If you need help, an index and checklist at the back of the book tells you which stickers go with which animal. You can also use this book as a spotter's handbook to make a note of the dogs you have seen. At the back of the book, there's a list of words used to describe dogs' coats.