Child Shark Books
Useful Books for Seas and Ocean Lesson Plans
These books can be used for ocean lesson plans, casual reading, or participating in ocean activities. Children will learn about the wonders of the sea, the animal and plant life, environmental issues, etc. and retain more information while having fun. You will be amazed at the results!
These ocean books have been hand-picked and are available through affiliate links to Amazon.com
They are perfect for parents, teachers, home educators, day care providers, grandparents… anybody looking for a fun way to keep teaching children about the ocean!
---
Shark in the Park
Created in consultation with a language expert, this book is part of an engaging new phonics-based series, especially written to help boys and girls learn to read. Not only is the story great fun, it also takes into account recent research on the most effective ways of teaching reading. Stephen Cartwright's delightful illustrations complement the text and are designed to stimulate further interest. Fold out shark pages add to the enjoyment.
---
First Encyclopedia of Seas and Oceans
How deep is the ocean? Which fish can blow itself up like a balloon? How do dolphins use sound to hunt? Find out in this delightful book. Simple text, stunning illustrations and photographs and exciting recommended Web sites introduce young readers fond of sharks, to the wonders of the sea.
---
Preschool Ocean Lesson Plan Ideas:
Week 1: Ocean Waves, Currents & Tides
Week 2: Pirates
Week 3: Boats, Ships, & Shipwrecks
Week 4: Environmental Awareness
Week 5: Ocean Unit Study Animals
Week 6: Ocean unit Study Animals (continued)
Week 7: Coral Reefs & Their Animals
Week 8: Deep Dark Depths of the Ocean
Week 9: Icy Seas
Week 10: Beaches and Islands
Fill each day of each week with preschool ocean activities to help make learning fun. Preschool ocean activities can range from journaling (draw pictures if the child is not writing yet), to experiments, to using the internet to learn more to simple ocean crafts! Who knew learning about the ocean could be so much fun!
Skill set ideas:
Self-expression and intrapersonal skills
Visual spatial skills
Following directions
Sequencing
Environmental awareness
Zoology
Math skills including:
Fractions
Predicting
Bar graphing
Imagination
Coding
A Venn diagram
Measuring
Comparing
Patterns
---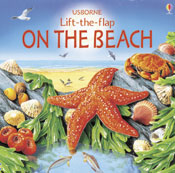 On the Beach
Lift the flaps in this book to uncover fascinating seashore sights. Shark fans learn more about the beach in this wonderful flap book! Boys and girls will come across beautiful fish,
birds, boats, a lighthouse… and find tiny creatures hidden in the sand and rocks.
---
Sharks Lift-the-Flap Book
Sharks aren't just scary fish with pointy teeth. Lift the flaps in this richly illustrated book to meet gentle giants,
fierce hunters, beady-eyed baby sharks and the weird, weedy wobbegong.

Sharks Internet-Linked Book
Boys and girls will find sharks of all different shapes and sizes, some as small as your hand, others bigger than buses. Boys and girls will find sharks of all different shapes and sizes, some as small as your hand, others bigger than buses.
Find out what drives them into feeding frenzies, how sharks look when they are about to attack, and how sharks can "feel" fish swimming nearby. Dramatic underwater photography brings boys and girls face to face with these incredible creatures, while lively illustrations provide an insight into their habits. This book is great even starting as young as age 3 because a toddler can say, "cool shark", then as boys and girls begin to read, they can read the details of the book. And later, when they need to do a school report, parents once again get full use of the book through the internet links. There are internet links to child friendly sites (that the publisher keeps up to date) and you can read so much more about sharks. There is plenty of information for a school report!
---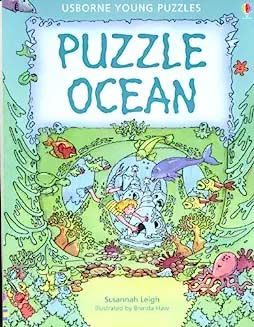 Puzzle Ocean
It all begins with a message in a bottle! Join Rosie in an amazing underwater journey with friendly dolphins and scary sharks. This lively story, linked with lots of fun and challenging picture puzzles, is packed full of extra things to spot along the way – making it one to enjoy again and again.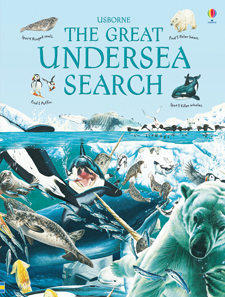 The Great Undersea Search
From giant octopuses and great white sharks, to deep sea divers and treasure troves, there are aroung 100 things to spot on every double page of this book. Each beautifully illustrated puzzle picture shows a different underwater scene, including the magical world of the coral reef, the spooky ocean depths, a sunken pirate ship and many more. This book provides countless hours of puzzle-solving fun, and is full of fascinating facts about life under the oceans.
---