Teach Poetry to Children
Hand Picked By Mom!
I spend many hours in the child poetry book section trying to find the books to teach poetry to my children.
I own all of the poetry books below and often give these books as gifts to teach poetry to family and friends. We have a nightly tradition (time permitting) where each child picks a poem for mom to read. My children have enjoyed all of the poetry for children that I list here.
---
An Introduction to Poetry for children with CD
Teach poetry to children! This poetry book painlessly introduces kids (and parents, too) to the greatest poets in history, from Homer and Shakespeare to Robert Frost and Ogden Nash-and provides excellent examples of their work and commentary on what makes it so special.
In addition to charming illustrations on every lively page, A CHILD'S INTRODUCTION TO POETRY contains a full-length CD with wonderful renditions of the poems read by professional actors.
From School Library Journal:
Grade 4-8-There are plenty of collections of poems for young children available, but none like this child poetry book. The first section discusses the different forms the genre takes: nursery rhyme, narrative verse, ballad, free verse, pastoral, etc. Driscoll offers a clear explanation of each type
Click here to Buy
---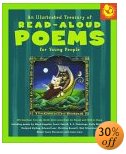 An Illustrated Treasury of Read-Aloud Poems for Young People
READ-ALOUD POEMS collects the work of the world's greatest poets, to teach poetry to children of all ages. It introduces children to the magic and excitement of the form. The poems have been carefully selected to appeal to a child's sensibility, and are culled from such poets as Maya Angelou, Lewis Carroll, Emily Dickinson, Shel Siverstein, and e.e. cummings. It is filled with brand-new illustrations, offering fresh interpretations of classic and modern verses. I especially like that this book also tells a little about the author's life.
---

Favorite Poems Old and New
This was one of the first poetry books I bought to teach poetry to my children. I especially enjoyed the introduction where she recalls her mother reading poetry to her as a child. There is an index by titel, author and also first line and the poems are sorted by topic such as "nature".
My children first learned to recite "Trees" by Joyce Kilmer.
Click for Hardcover
---
The following child poetry book and the ones further below use one poem to teach poetry to children.
These books teach that you can illustrate just one poem in an entire book. Use these to show children that they can write just one poem and yet create an entire book!
---

Dandelions: Stars in the Grass
This cheerful child poetry book is a nice combination of rhyme and information. "The flowers begin to change one summer day. Their bright yellow petals fold up and fall away." As the dandelion's cycle is described, bright and pleasing acrylic illustrations extend the text, including insects that are attracted to this multitudinous flower. The bold black print dances through the pages, with an occasional word in another color for emphasis. The book concludes with a page of additional facts and a recipe for dandelion salad.
Click for Hardcover
---

Stopping by Woods on a Snowy Evening
This book with it's snowy see-through cover was a great gift for my daughter. Ever since it was published in 1978, the picture-book presentation of Robert Frost's poem "Stopping by Woods on a Snowy Evening" has been an enduring favorite. For this special edition with a new design, trim size, and three new spreads, Susan Jeffers has added more detail and subtle color to her sweeping backgrounds of frosty New England scenes. There are more animals to find among the trees, and the kindly figure with his "promises to keep" exudes warmth as he stops to appreciate the quiet delights of winter. The handsome new vellum jacket will attract new and old fans as it evokes a frost-covered windowpane.
Click for Hardcover
---

My Shadow
By Robert Louis Stevenson, Illustrated by Glenna Lang
Great illustrations taking you page by page through this classic poem! What a great way to introduce poetry. The pictures are painted and fairly simple which only adds to the gentle tone the poem has. We recommend ages 2 and up.
Click for Softcover
---