Child Bug Book
Bug Books for Kids: See All Bug Books
Size of book: 9 x 10 inches
Pages: 32
Crawling with bugs to find, count and talk about, this fascinating picture book provides hours of puzzle-solving fun. Spot beetles scurrying across desert dunes, butterflies flitting through the jungle, caterpillars munching on leaves, and many, many more bugs! Each page in this child bug book shows a different bug habitat and the border is framed with the specific bug to find, sometimes a small fact about that bug and how many kids should find in the double page spread picture. This is also a great book for the car or resturant to help children keep busy, quiet and learn at the same time!
---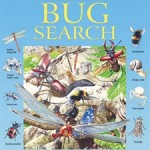 The Big Bug Search Book
OUT OF STOCK
Buy:The Big Bug Search
Size of book: 9 x 12 inches
Pages: 32; Softcover Book
This is the higher level (above our 1001 Bugs to Spot listed above). For older children, age 8 and up this child bug book will even challenge adults. (It does help you out if your child cannot find the correct number — answers are in the back!)
Expect some of the bugs to be very well hidden. Some images may only be the bugs head or wing. From huge hairy spiders to spindly stick insects, there are around 100 bugs just waiting to be found on every double page. Full of fascinating facts, each beautifully illustrated picture puzzle shows a different part of the world, packed with the tiny creatures that live there. (" What a fun way to learn about creepy crawlies and their habitat! Excellent." Wildside)
---
Size of book: 10 x 10 inches
Pages: 16
In every yard, there's a whole world of bugs and slugs waiting to be discovered. Some of them are hiding in this child bug book. You'll find them behind rocks, under leaves, or even in flowerpots – just life the flaps to see.
OUT OF STOCK
---
Size of book: 10 x 10 inches;
Pages: 16; Hardcover
Have you ever stopped to notice the tiny creatures creeping and crawling at your feet? Lift the flaps in this lovely child bug book and meet a whole host of bugs from all over the world, from buzzing bees to beautiful butterflies. Fairly easy reading in our flap books make them a popular choice for children beginning to read. Each flap has a very thick edge to attach it to the page making this child bug book more durable than the flap books typically found in stores.
OUT OF STOCK
---


Bugs Internet Linked
Size of book: 7 x 9 inches
Pages: 48
Our best selling bug book for kids! Packed with stunning photographs, lively illustrations and amazing facts, this chidl bug book reveals the strange lives of all kinds of bugs. Discover what bugs look like close-up and read vivid descriptions of how bugs move, eat, grow, hunt and defend themselves.
This chid bug book is great even starting as young as age 3 because a toddler can say, "cool bug", then as boys and girls begin to read, they can read all the bug details in the book. And later, when kids need to do a school report, parents once again get full use of the bug book through the internet links. There are internet links to child friendly sites (that the publisher keeps up to date) and kids can read so much more about bugs! There is plenty of information for a school report!
OUT OF STOCK
---