Child Bug Books

1001 Bugs to Spot
Crawling with bugs to find, count and talk about, this fascinating picture book provides hours of puzzle-solving fun. Spot beetles scurrying across desert dunes, butterflies flitting through the jungle, caterpillars munching on leaves, and many, many more bugs! Each page in this child bug book shows a different bug habitat and the border is framed with the specific bug to find, sometimes a small fact about that bug and how many kids should find in the double page spread picture. This is also a great book for the car or resturant to help children keep busy, quiet and learn at the same time!
---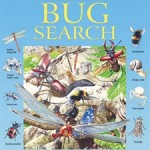 Bug Search – Big book of bugs to spot
This is the higher level (above our 1001 Bugs to Spot listed above). For older children, age 8 and up this child bug book will even challenge adults. (It does help you out if your child cannot find the correct number — answers are in the back!)
Expect some of the bugs to be very well hidden. Some images may only be the bugs head or wing. From huge hairy spiders to spindly stick insects, there are around 100 bugs just waiting to be found on every double page. Full of fascinating facts, each beautifully illustrated picture puzzle shows a different part of the world, packed with the tiny creatures that live there. (" What a fun way to learn about creepy crawlies and their habitat! Excellent." Wildside)
---
Bugs and Slugs
Have you ever stopped to notice the tiny creatures creeping and crawling at your feet? In every yard, there's a whole world of bugs and slugs waiting to be discovered. Some of them are hiding in this child bug book. You'll find them behind rocks, under leaves, or even in flowerpots – just life the flaps to see.
---