Teaching Chess Books
Starting Chess – Internet Linked
Starting Chess is an inspiring introduction for complete beginners. It covers everything a young player needs to know, from how to set out the pieces to special moves and tactics. Lively illustrations of snooty queens, cheeky pawns and wise old kings bring the game to life, while simple diagrams make examples and puzzles clear and easy to follow. This new Internet-linked edition also contains descriptions of fun and informative chess Web sites to visit.
---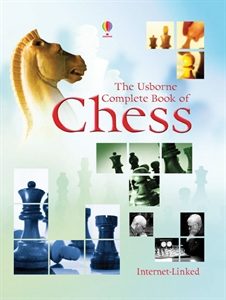 Complete Book of Chess – Internet Linked
Whether you are a complete beginner (child or adult) or a more experienced player, this book is for you. Find out how to lay deadly traps for enemny pieces, plan cunning move combinations, launch effective attacks and form solid defence strategies. Includes over 80 teasing chess puzzles.
Internet Linked Book: this book contains educational websites you can visit to take you further into chess in a fun and informative way. You are sent to quicklinks which are updated to ensure the chess links do not go out of date!
---
Chess Puzzles
Chess Puzzles is packed with over 100 fun and fascinating chess problems to help improve playing skills.
Contains a wide range of puzzles: simple one move checkmates to challenging brain teasers. All puzzles have colorful board diagrams and answers are provided with detailed explanations.
---