Fairy Story Books and Crafts
Fairy Books, Puzzles, Recipes, and Activities for Children
You will be amazed at all the adorable fairy craft ideas in our books below. What is most unusual about the selection of books is there is very little you might need to purchase. Most of the great fairy craft ideas include objects that you already have at your home or school. We also include some mermaid books and pirates crafts for kids — just to spice it up a bit!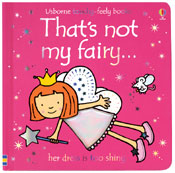 That's Not My Fairy
"That's not my fairy, her wings are too…." and so on. Your child will love reading this textured fairy story book, turning pages of bright fairies and feeling the different textures. This is a very popular book with children of all ages. At my book fairs, often the children gather round the fairy books and I even have 10 year olds going through the pages. No one can resist seeing how the fairy books feel! And as you repeatedly read this book, your child may eventually memorize the story and begin word recognition as well!
Ages: 9 months and up
Fairy story book size: 6 1/2 x 6 1/2 inches
---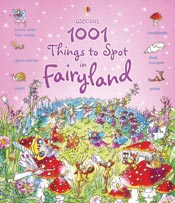 1001 Things to Spot in Fairyland
One of our most popular fairy books is 1001 Things to Spot in Fairy Land. This fairy story book has a puffy washable cover with lots of sparkles! Discover the magic of fairyland in this enchanting picture book, which will provide hours of puzzle-solving fun.
Search for pretty flower fairies in a secret garden, look for frog princes at fairy school and see if you can find bluebirds flying somewhere over the rainbow. Some would think their cannot be 1001 things to spot in this fairy story book but how about "goblets of fairy punch", "elves diving for jewels" or "fairy hammers" (a hammer with wings). Each page has a border with all the items you need to find on the page. (Need to make a quiet phone call? – hand your child this fairy story book!)
Discover the magic of fairyland in this enchanting picture book, which will provide hours of puzzle-solving fun. Search for pretty flower fairies in a secret garden, look for frog princes at fairy school and see if you can find bluebirds flying somewhere over the rainbow. Ages: 6 years and up
---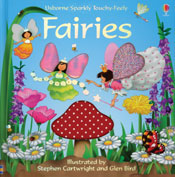 Fairies – Usborne Touch and Feel Book
Come and visit the magical world of fairies, as they sprinkle flowers with fairy dust, paint rainbows across the sky and light up the stars at night. This is a higher level of touchy feely fairy story book with different textures on a page so you can compare with your child the differences between textures.
Ages: 9 months & up
Fairy story book size: 8 1/2 x 8 1/2 inches
---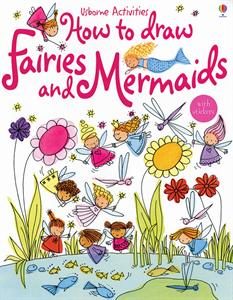 How to Draw Fairies and Mermaids
These imaginative craft books use simple methods and easy-to-follow directions. Each book includes a wide variety of projects for cards, wrapping paper, decorations and presents, and much, much more.
Stickers add even more fun to the projects!
Use in the center of a table so siblings can work together.
---
Fairy Cooking
Are you throwing a fairy party or just looking to have some cooking fun related to fairies that your child loves? Try our fairy recipe cooking book. Great price and wonderful ideas to choose a fairy recipe from! In this delightful book, you'll find lots of delicious fairy recipes for you and your friends to make and eat.
There are pretty fairy muffins, tiny confetti cookies, iced fairy cakes and lots more. Just follow the simple steps to make yummy fairy food for a party or a sleepover, or just for fun.
Each fairy recipe is simple enough that you can make it with your child. Basic cooking instructions are included throughout the book for elementary school children who might be starting cooking. But preschool children can also use this book by following the pictures. And of course adults who just need a great recipe for a fairy party can bypass the simple images and text and get the cooking done quickly! Fairy Recipes included in this book are:
Spangly Heart Cookies
Pretty Fairy Fudge
Fairy Party Swirly Pink Cookies
Mini Fairy Pastries
Pretty Fairy Star Cookies
Flower Cut-out Cookies
Fairy Party – Tiny Fairy Cakes
Iced Rasberry Mousse
Cut-out Sandwiches
Chocolate cobweb cookies
Butterfly Cupcakes
Little Cheese Scones
Mini Meringues
Confetti Cookies
Marzipan Toadstools
---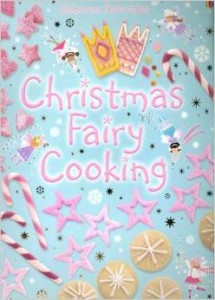 Christmas Fairy Cooking
Let's celebrate Christmas! Here are all kinds of magical fairy recipes to make for Christmas.
By following the really simple picture steps, you can cook fairy kisses, snowball truffles, a Christmas castle cake and much more.
Make these for a party, give them as gifts, or just eat them!
---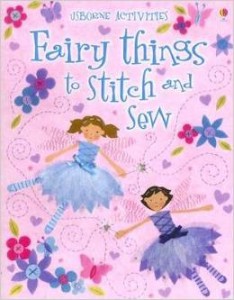 Fairy Things to Stitch and Sew
about 9×12 inches; 32 pages
This enchanting book is teeming with delightful projects. Follow the simple step-by-step instructions to make pictures, pretty little bags,
a tooth fairy purse, fairy pillows and lots more. Even if you've never sewn anything before, you'll be able to follow the instructions for sewing different stitches, and attaching sparkling sequins and shimmering beads.
Included are these great fairy craft ideas:
flying fairies
fairyland garden
hanging hearts
fairy cake collage
heart and fairy collage
pretty little bags
fairy friends picture
flower cards
tooth fairy purses
sparkly wand picture
dancing fairy collage
butterfly strings
fairy pillows
pretty rainbow
how to do the stitches – Simple instructions on sewing.
buttons and sequins – How to sew buttons and sequins.
---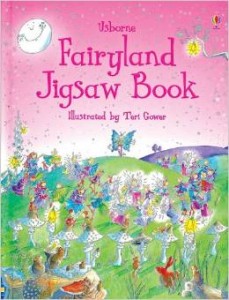 Fairyland Jigsaw Book
about 9×12 inches; 14 pages with 6 different fairy jigsaw puzzles
Young readers can tiptoe through fairyland and discover its many secrets.
This magical book contains six fairy jigsaw puzzles for you to do.
---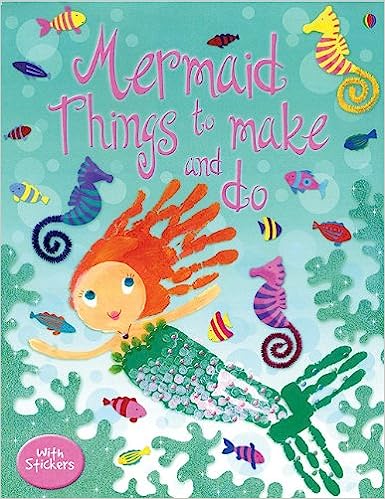 Mermaid Things to Make and do
Dive into the enchanting underwater world of mermaids in this delightful activity book. By following the simple steps, you can create lots of magical mermaid accessories such as a pretty shell purse, a coral necklace, a twinkly tiara and a glittery mirror. You'll also discover how to make a tissue paper coral garden, a dangly octopus mobile, mermaids with sparkly tails and lots more. This book also contains over 200 shiny blue stickers to add extra shimmer to everything you make. Mermaid craft ideas!
Included in this book are:
Mermaid Paperchain
Octopus Mobile
Pretty Shell Purse
Sitting Mermaids
Striped Fish Chains
Underwater Palace
Coral Necklace
Watery Bookmark Stickers
Sea Horse Pencil Top
Handprinted Mermaid
Mermaid Mirror
Mermaid pop-up card
Coral Garden
Sparkly Mermaids
Twinkly Tiaras
Whale Riding
Stencilled Shell Paper
---