Child Halloween Book
Below are some of our top sellers but be sure to also search our directory for
ghosts, spooks, and other scary books.
We have a child Halloween book for any age. Try the Halloween Activities with youngest children all the way up to classics like Dr Jekyl and Mr Hyde.
Lots of spooky stories for children and then liven things up with our joke books.
Child Halloween Book:




Spooks Surprise
Child Halloween book for younger readers up to grade 3. Grandpa Spook is feeling sad and old. He just isn't spooky any more. Sam and Sorrel decide to cheer him up by inviting all his friends to the best ever Spoos' party…with surprising result. Each story in this charmingly illustrated series has picture puzzles threaded through it, which will involve the reader in the action and add to their pleasure. Younger children can share this Halloween book with an adult, more confident readers can enjoy them on their own. Either way they will capture the imagination of all.
---
Child Halloween Book:


Face Painting
Use this Halloween book which makes face painting easy, dramatic, creative and lots of fun. The easy-to-follow step-by-step instructions and helpful technique tips in the book mean that even complete beginners can be pleased with their results. You will learn how to transform people into animals, monsters and clowns, or decorate their faces with flowers, exotic scenes or stylish designs to match their clothes. The water-based paints used are non-toxic, washable and easy to work with.
This Halloween book could save you money – no more expensive costumes! And, even more important on Halloween night, is safety. With face painting you do not have masks blocking children's view of cars.
---
Child Halloween Book:


Magic Trick Kids Kit
In this kit, aspiring magicians will find the props they need to perform many of the tricks in the book.
The magic wand, deck of cards, silk scarf and dice will enable young magicians to conjure up amazing tricks and illusions.
A fake thumb holds the secret of the disappearing scarf trick. By following the 64-page book's step-by-step instructions, youngsters can perform like a pro.


---
Child Halloween Book:

Oliver Moon Series
Hooray! Magic School has finished for the Halloween holidays-and even better, Oliver has been chosen to look after the class pet. But with Oliver's naughty baby sister lending a hand, it soon turns into a nipper bat nightmare!
OR,
Oliver Moon is having a wail of a time at his spooky school sleepover in the haunted museum. But then he's cursed by a bad luck jinx and things start to go terribly wrong. Oliver didn't intend to summon such very, VERY scary guests.. Will Oliver and his class survive the night?
OR,
Oliver Moon works hard at Magic School, praticing his spellcraft, toad training and broomstick flying. But when he's entered for the Young Wizard of the Year award he finds he's up against the head boy, Merlin Spoonbender. Can Oliver cook up an extra-special potion to win the prize?



---
Child Halloween Book:


Wickit Chronicles
It's the harshest winter anyone can remember, and the vast waterways of the Fens are frozen solid, transformed into an Ice Road. The conditions are ideal for a surprise invasion by young King Arnald's banished uncle. Wickit Monastery is under threat too – a bitter illness has struck down almost all the brothers, and a ghost walks across the snow. Can the orphan Pip and Perfect (the stone gargoyle), save the Brothers, their friend the King, and their country?
---
One day Tessa was standing on Chloe's porch, looking scared. Two days later she was dead.
Chloe can't shake the thought that she didn't ask Tessa what was wrong, even though she'd seemed frightened.
Now she has to find out who might have wanted Tessa out of the way. And she can't help wondering what it was, the night Tessa came for help, that had her scared to death…
---
Child Halloween Book: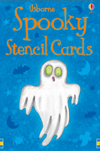 Spooky Stencil Surprise Card
This box of spooky shaped stencil cards includes familiar shapes such as ghosts and skeletons. Perfect for children to use either to create fun drawings or as part of craft projects such as cards and decorations for Halloween. Robust and durable, ensuring repeated use.
Ages: 6 years +
6 7/8 x 4 1/2 inches
Cards: 16
---
Child Halloween Book:


No Such thing as Ghosts
Bold, three-color illustrations and charming silhouettes add an old-fashioned flair to this family-friendly ghost story. Children will be tempted to join in the hunt, but somehow our hero can't see what we do.
Is he ever going to catch a ghost?
"Not scary at all, this little book (the smaller size is very appealing) allows the reader to look carefully at the illustrations, rich in white space and droll details, and discover all manner of hidden things. My favorite was seeing a lineup of ghosts waiting for the bathroom. Yellow, black and pink give the artwork a retro feel, but the story line is timeless." – Book Page
---
Child Halloween Book:

Spooky Sticker Book (out of stock)
This exciting sticker book encourages children to fill in the spooky scenes using the colorful stickers provided.
Scary scenes include trick or treating, a haunted house, a ghost ship and a monster garden.
With over 400 ghoulish stickers to choose from.