Christmas Book for children
First Sticker book – Santa
Santa and his elves are ready for Christmas. Fill the pages of this book with stickers to decorate the scenes.
---
Buy: That's Not My Santa
This delightful series of board books is aimed at very young children. The bright pictures, with their patches of different textures, are designed to develop sensory and language awareness. Babies and toddlers will love turning the pages and touching the feely patches.
---
Buy: First Book of Christmas Carols
The magic and wonder of Christmas is captured in this enchanting treasure of well-loved, traditional carols. Each song has more than one verse which is hard to find in many Christmas books. Music is included for treble clef only (right hand piano) and this makes it easy and fun for children who have had some piano. Songs include: Away in a Manger, Ding Dong merrily on High, Deck the Hall, While Shepherds Watched, We Three Kings, The Holly and The Ivy, Hark The Herald, Silent Night, Oh Come, All Ye Faithful, Oh Little Town of Bethlehem, and We Wish You a Merry Christmas.
---
Nativity
Make your own Nativity scene and bring the Christmas story to life with this charming and original book.
Ages: 5 years and up
Size of book: 8 3/4 x 11 1/4 inches
Pages: 14 with 6 jigsaw
---
Christmas Crafts for Kids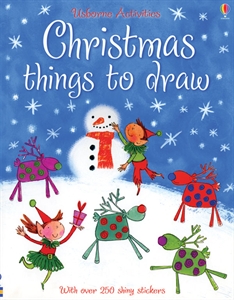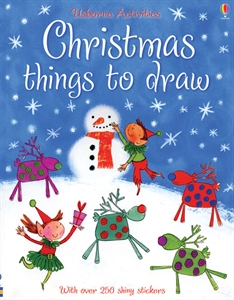 Christmas Things to Draw
Jolly Santa, busy elves and twinkly trees are some of the wonderful Christmas things you will find in this imaginative drawing book. Use the ideas to make your own Christmas cards or follow the simple step-by-step instructions exactly to create delightful pictures.
---

50 Christmas Things to Make and Do
This inspiring book is bursting with fun, festive ideas for things to make and do in the weeks before Christmas.
---
Christmas Fairy Things to Make and Do
Christmas craft for kids: In this enchanting book, you will find a variety of Christmas craft for kids. Kids will discover lots of magical fairy things to make in the weeks leading up to Christmas.
Kids can make a dazzling crown, a star wand and glittering fairy wings, then transform your home into a Christmas fairyland with lots of glittery decorations. A favorite Christmas craft for kids is the delightful fairy Christmas cards.
The simple steps are clearly illustrated and easy to follow, and there are shiny silver stickers in the middle pages for decorating all the fairy things the kids will make.
---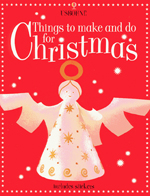 Buy: Things to Make and Do for Christmas
Christmas craft for kids: This wonderful book is full of many different Christmas craft for kids to make using materials you already have in your house.
It also includes 2 pages of stickers that can be used in decorating. You can make bread ornaments, pop out cards, paper decorations, wrapping paper, snowman paperchains, stocking ornaments, an advent calendar, and much much more.
This great activity book will keep excited children happily occupied during the weeks before Christmas. By following the really simple step-by-step instructions, even young children will produce some amazing results. Imaginative ideas for cards, decorations and wrapping paper are among the festive projects included. This book also contains over 50 stickers to use with the projects, and on homemade cards and gift tags.
---

20 Christmas Cards to Make
Christmas craft for kids: Color the Christmas cards and send them to friends and family. They will have a delightful surprise waiting when the card pops up for them when they take it from the colored envelope.
---
If you're looking for a child Christmas book, search all our Christmas titles.