Best Selling Child Book
Reading Tip: Don't stop reading aloud to your child once she learns to read. She will benefit from hearing stories too difficult for her.
(From: The Literacy Network of Los Angeles)
---
Below you will find a mixture of the best child books in our inventory. We have selected the best child books in several categories or what we
believe to be a good mixture for a home library. Grandparents might use this list to establish a home library of child books to use when
the grandchildren come to visit. We find that many of these books can be used across
all ages. Even your older children will enjoy peeking over the shoulder of their siblings reading our best selling child book. That is what makes our
list on this page so unique. They really are the best child books on the market today!

Best Selling Child Book: Big Book of Things to Spot Age 3 and up

This book combines 4 of the best child books into one for only "1001 Animals to Spot, 1001 Things to Spot on the Farm,
1001 Things to Spot in the Town and 1001 Things to Spot Long Ago" This best young child book works on counting
and learn about the best animals, farms, towns and historical things!
Upon opening the book, young children find drawings spread accross both pages. Young children will enjoy learning about new and
unusual animals by finding the correct number of them in the picture. From our best child books, this top seller from Usborne books, will keep your young child busy for hours
at a time while they learn more and more about the value of books .
Use this book to teach young children counting while learning about habitats.
---

Best Child Books: There's A Mouse About the House

This activity book features a cardboard mouse character which takes the reader on an exciting adventure as it passes through a slot on each page.
This best young child book is designed to orient youngsters toward reading and the story-building process. Your child will not realize it but he is learning text
flows from left to right when reading. The mouse is traveling from left to right accross the page. Another fun thing in this book is the back
cover has a traceable mouse (just incase yours might get lost) but even better, you can make a little family of mice to travel through the book!
(best young child book, ages 3 and up)
order book

&bsp;
&bsp;

---

Best Child Books: I Can Draw Animals
Children love drawing, but can become frustrated when their pictures do not turn out how they want. This award-winning book is packed with
attractive drawings of animals, with very clear step-by-step picture instructions showing children how to do them.
Precise hand-control is not required, so even very young children will be able to achieve some delightful results.
This is one of the best child books in our art inventory. Choose this book first and then add to your collection.
order book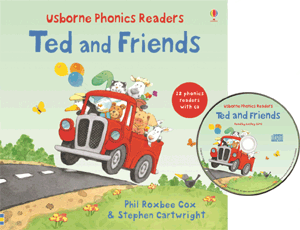 Best Child Books: Ted and Friends
combines several phonics books into one creating one of the best phonics book for young children.
Created in consultation with a language expert, these books are part of the engaging phonics-based series, especially written to help your young child learn
to read. The stories not only take into account recent research on the most effective ways of teaching reading, but are also great fun. Stephen
Cartwright's delightful illustrations complement the text and are designed to stimulate further interest.
Foldout pages add to the enjoyment making this one the best child books to keep you young child's attention.
Contained in this book are four of our best phonics books: Ted's Shed, Fat Cat on a Mat, Toad Makes a Road and Sam Sheep Can't Sleep.
order book
---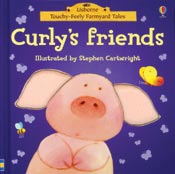 Best Child Books: Curly's Friends
One of the best, cutest touch and feel books we carry. Curlly goes through the book visiting his
friends, the horse tail made of string, a shiny mirror to look into, etc.
Your young child will love to stroke Curly the pig as you read this simple story. Based on the Farmyard Tales series, patches of different textures will
encourage babies and toddlers to turn the pages and become involved with the characters.
order book
---
ABC Jigsaw Book
ABC Jigsaw by Heather Amery & Stephen Cartwright .
In this young child book, each letter has it's own piece which fits in a space.
The pieces do NOT connect together. This is the first level in learning puzzles! Young children will work on letter recognition, sounds and dexterity as
they place each piece on the pages. Children will enjoy learning the letters of the alphabet with Poppy and Sam and the other characters from Apple Tree
Farm. The 26 letters each have their own picture jigsaw piece, which lifts out to reveal the letter underneath, providing endless opportunities for
matching words and letters.
order puzzle book
---

Complete Book of Farmyard Tales with CD
This delightful book contains all 20 of the best popular Farmyard Tales stories. Young children will love Stephen Cartwright's charming illustrations of life
on Apple Tree Farm, and the gently amusing stories of Mrs. Boot, the farmer, her children Poppy and Sam, and their animals, Rusty the dog, Curly the pig
and Woolly the sheep. The book has a little duck on every page so the book can be used with a very young child. Then as the child begins to read, there
are two reading levels, one at the top of the page and one at the bottom. As a result, your young child can read the top and you read the bottom. This is an
excellent book to motivate reading, bonding between parent and child and a love of books.
order book
---
Best Child Books: Big Book of Experiments
Children can investigate the world around them and discover science in action. Specially chosen activities include making electricity, bending light and
weather watching. Helpful descriptions, clearly written text and explanations show how and why the experiments work. Striking artwork and photographs
illustrate all projects with clarity. ("Altogether a fascinating and useful book to have." School Science Review)
order book

&bsp;