Child Development Journal
Exceptional Child Care Journal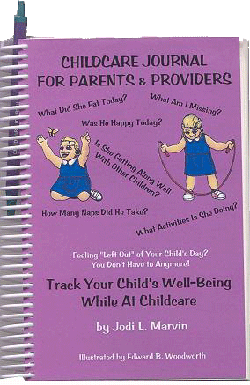 Child Care Journal
Connecting Parent and Provider
Development journal tracking the details of your child's day
FINALLY! A way to track the details of your child's day while you are at work!
Record your child's development, milestones and more at the same time!
Your children's well-being is one of the most important things in the world to you, and you deserve to know what
is taking place in their lives when you cannot be with them.
This daycare diary is a great way for parents and childcare providers to communicate with each other and to leave
reminder notes.
Pick up and drop off time at childcare can sometimes be hectic, with other parents arriving at the same time, and
that one-on-one contact between provider and parent can sometimes be difficult. The journals make the communication
a little easier – open up your journal and your child's daily activities (and even developments) are right there.
This is an exceptional tool for the provider, as well as the parent!
Any age: use this journal for infant, baby or young child
About the Author
Jodi L. Marvin is a mother as well as a certified in home provider.
She drew from her experiences as both provider and parent to create this exceptional indepth fun way of tracking child development while increasing communication between care giver and parent.
Customer Comments:
What people are saying about this Child Care Journal
---
Although my son is almost 4 years old, I love looking in
his journal at the end of the day so I can sort of share his day with him.
It's fun to start conversations about the activities and play that he
experienced earlier in the day. Also, it saves a lot of time during pick up
(when I just want to get home after a long day at work) – instead of discussing
the little details, I can read them at my convenience! Another thing I like is
looking back through the journal at no special day in particular but just to
sort of reminisce about his activities and milestones in the past which are
recorded for me!
Mary , New York;
---
This journal has helped to put my mind at ease. It's such a
great "tool" to use while my children are at daycare. I know what they ate,
when they ate, what they did and if and when they took naps. No more "fishing"
for information at dinnertime from the kids. It has also helped to open the
doors for communication with the kids. We go over the details in the book each
night, discussing each activity and how much they liked what happened every
day.
Shelley; Dave, New York;
---
I have received my childcare journal gift pack. Thank you. I gave it as a baby shower gift. The mother-to-be love it. Comments from other guests were, "Where did you get it?" and "Such beautiful detail" and "All mothers should have one of these." It got more attention than the mother-to-be. I was so proud of my gift. You will be having lots of visitors to your web-site from the guests at the shower. Thanks so much.
Annie, Mechanicsville, MD
---