Travel books, games, moving house, and more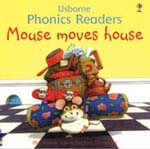 Mouse Moves House – Usborne Phonics Book
Very cute story about a mouse moving house with fold out pages adding to the enjoyment.
This would be a great book to ease fears about moving.
This book is part of a phonics based series especially written
to help your child learn to read. The last page includes guides for parents in teaching phonics used within the book.
---
Car Travel Games – Usborne Books
Puzzles, games and things to do on a travel journey or at home. The activities in this book will make even the most boring car ride lots of fun!
---
Travel Games – Usborne Books
Colorful book packed with games, puzzles and activities to help keep car, air and armchair travelers amused for hours. It also includes fascinating car and air facts and shows how to make a travel journey log.