Christmas Puzzle for Kids
Buy: Christmas Jigsaw Book
The four simple jigsaw puzzles in this book are part of a magical Christmas story. Join Poppy, Sam and Rusty the dog as they get ready for the big day at Apple Tree Farm.
---
Buy: Christmas Puzzles
Christmas Puzzle for Kid: Does Mrs. Crumb find all the ingredients for the Christmas lunch? Can Santa wake his sleeping elves to make the presents and will the characters get to the Christmas party on time? This charming book is packed full of puzzles and problems that will keep children entertained during the weeks before Christmas and even on Christmas day…
There are things to spot and clues to solve in each detailed illustration. Over 40 stickers are included to make the activites even more fun.
---
Christmas Story Jigsaw Book
Children's Christmas Books: This stunning jigsaw book with simple text provides a delightful introduction to the story of Jesus' birth for very young children. Each jigsaw is beautifully illustrated and decorated with gold and silver foil with a central thematic jigsaw piece.
---
Christmas Jigsaw Baby
Christmas Puzzle for Kid: Christmas Baby Jigsaw Touchy Feely Book! This book is has so much to offer. Purchase it for a young child and they can grow into using the 2 piece puzzle pages. On every left page there is a 2 piece puzzle embedded in the heavy board book page. Beneath the puzzle are simple objects to find on the right hand page. So besides touching and feeling the textures, you are searching and finding! And of course you have the text to read and the simple puzzles too!
---
Buy:
1001 Christmas Things to Spot
This jolly puzzle-book is stuffed full of Christmas things to find and count. Join Santa Claus and his busy team during the most magical holiday of the year.
---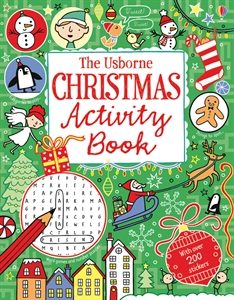 Buy: Christmas Activity Book
This fantastic festive activity book is packed with puzzles, codes to crack, games to play, doodles to draw, stickers to stick, and lots, lots more.
---
Buy: 20 Christmas Activity Cards to Color
A collection of twenty festive Christmas cards to color and rich red envelopes to send them in. Each card is gorgeously illustrated with a different design, including a decorated Christmas tree, a sweet robin on a berry-freckled branch and a happy snowman. Card insides have colored backgrounds, a season's greeting and a blank space for children to write their own message.
---
Christmas Doodles
There are over 100 irresistible opportunities for festive doodling in this pack. And you can wipe the cards clean and doodle over and over again.