A Strategy for Reading – Combined Volumes
|
Usborne Books Combined Volumes
We want to inspire the love of reading in our children but individual books can get pricey very quickly. Usborne books created combined volumes, books bound together as one which saves on the printing cost and these savings are passed down to parents and teachers through the cover price.
Combined volumes are an affordable strategy for reading. The idea is to provide a multitude of titles to your child so your child can discover their topics of passion and what get's them excited to reach for a book.
We have a huge selection of combined volumes but check out our favorties below.
First Experiences by A. Civardi & S. Cartwright. This book includes 9 titles introducing experiences to young children combined into one volume. Going to: the Hospital, the Doctor, the Dentist, a Party, on a Plane, are included as well as: The New Baby, Moving House and The New Puppy. First Experiences has simple text on the top of each page and more complex text on the bottom. This allows the beginning reader child to read the top of each page and the parent can read the bottom enhancing the reading experience and bonding between parent and child.
---
Big Book of Things to Spot
This book combines four other books that retail for $6.95 each. You save $14.85! The four books in this bind up are 1001 Animals to Spot, 1001 Things to Spot on the Farm, 1001 Things to Spot in the Town, & 1001 Things to Spot Long Ago. Children develop pre-reading and number skills while finding thousands of things as they explore rainforests, castles, and much more. This is a great book for hours of puzzle-solving fun and a great value for the dollar too!
---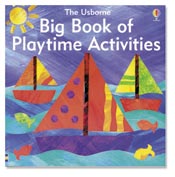 Big Book of Playtime Activities
First Experiencesby R. Gibson. I am always recommending more art and creativity for children. This book binds up seven separate titles with art ideas: I can cut and stick, I can crayon, I can finger-paint, I can draw animals, I can count, I can add up, and Fun with numbers. Drawing, painting and sticking activities are made easy, with simple step-by-step picture instructions that are easy for children to follow. There are also fun number activities which help children to develop skills in counting, adding, taking away and sharing.
---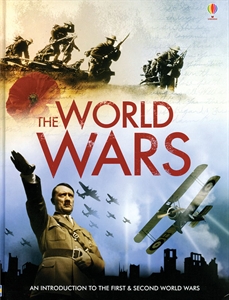 The two world wars of 1914-1918 and 1939-1945 cast a malevolent shadow over the entire 20th century. This book takes you through the story of both conflicts – from the soldiers' terrifying experiences in the trenches in the First War, to the huge battles and bombings of cities in the Second. Stunningly illustrated with dramatic contemporary photographs, paintings, posters and maps, this is an accessible and thought-provoking introduction to the two most devastating wars the world has ever known.
---
See our full line of Bind-up Books