Looking for a Football Story for Kids?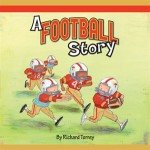 For the fall football season, why not start with A Football Story By Richard Torrey, an author and illustrator of children's books. (Ages 3-7)
Read about Drew getting ready for his first football game. Learn about the aprehensions of joining a new team. There's equipment like shoulder pads to put on. And work like – stretching. You also get tackled and learn about scrimmages, cooperation, and teamwork. And, there's the father-son relationship as well, will playing on a real football team be as much fun as playing in the park with Dad?
Reading books is much more fun when you can tie it in with real life events. Watch a game together on Sunday (or Monday night), and then re-read the book. What was similar? Were there any new players on the NFL team this year? How do we think they feel? Do we think they had similar concerns?
Any book with entertaining images that can bring family and real-life closer together is a winner.
Book Category: New Experiences, Teamwork
Kids who enjoy football, might also enjoy: