Child Behavior Modification
|
The Better Behavior Wheel Solves Problems
The Better Behavior Wheel
Child Behavior Chart can be easily customized so that it works best for the child behavior management that you need for your child.
Download the Wheel today and the atmosphere in your home will change overnight.
Here's how this child behavior management system works.
This child behavior modification software is customizable for your own consequences and rewards.
Sit down with your child and mutually agree on which consequences and rewards to enter onto the wheel.
When your child misbehaves or does something great, it's time to step up to the Better Behavior Wheel for "child behavior management".
Wherever the spinner lands is the consequence or reward that must be followed (or received).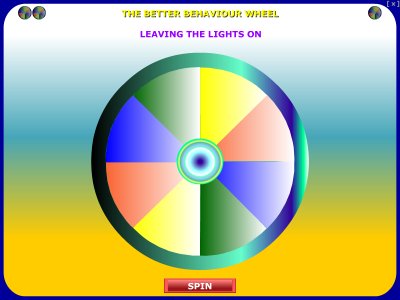 Conflict resolution becomes much easier to deal with. Families who use the Wheel report dramatic changes in their households.
Homework gets done, clothes get picked up, sibling rivalry issues (arguing and fighting) stop…in short, the Wheel produces great kids and a stress free home!
The mere presence of the Wheel will have a marked effect on your kids. Chances are, you'll seldom even have to spin it!
---
8 Child Behavior Management Themes – Or Choose Your Own!
The Better Behavior Wheel comes with the child behavior modification list below but you may want to create your own themes as well.
Child Behavior Modification Themes are suggested, but you can change them to your own:
Excessive Arguing
Leaving the Lights On
Not Putting Things Away
A Job Poorly Done
S-t-r-e-t-c-h-i-n-g the Truth
Taking Without Asking
Talking Back
Wheel of Just Desserts
Child Behavior Chart Example
Child Behavior: Leaving the Lights on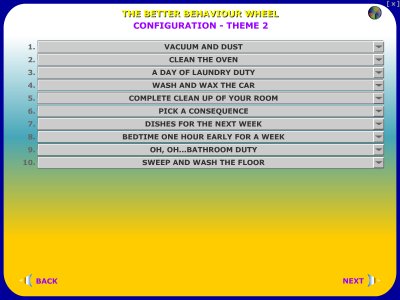 Set up your Better Behavior Wheel using the easy configuration menu. Accept the suggested consequences or change some to those that fit your household. Simply highlight the text and type in the consequence of your choice.
If you have more than one child you can create different, personalized sets for each child. For example, your teenager consequence might be "wash the car" but a toddler might be "set the table" or "sharpen all the colored pencils" (I hate when our pencils are dull come craft time!).
Order the Better Behavior Wheel!
Once the wheel is set up, you are ready to go.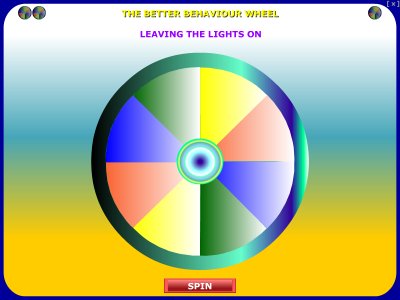 The computer screen looks like the image above. To activate the Wheel, your child simply clicks on the Spin button.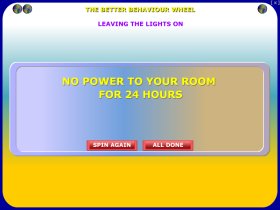 After the Better Behavior Wheel stops spinning, a randomly generated consequence is displayed, along with a cool sound, generally of dismay.
Every family is different. Different kids mean different child behavior management and different types of a child behavior chart.
The Better Behavior Wheel software provides many suggestions but also has the flexibility to fit your needs – create some rules, rewards, and consequences of your own.
There is no age limit. Teachers can use it too.
Order the Better Behavior Wheel!
Kids are intrigued with this type of child behavior chart. Using this child behavior chart, makes the "Better Behavior Wheel" the one to blame for the consequence. The parent is not to blame. The parent is not making "X" marks or moving clothes pin clips. The child behavior chart is all up to "chance" on where the spin lands.
Customer Comments
I think parents will be amazed…
Julie Joyce, Editor of the – "Safe Kids Report"
I think parents will be amazed at how quickly the Better Behavior Wheel triggers child behavior modification. After a few spins on this child behavior chart, my cunning 4 year old quickly understood exactly what behavior was unacceptable. More importantly, she realized that discipline would be objectively and consistently dispensed. The Better Behavior Wheel helps parents to do a better job so their kids can be better kids. I highly recommend the Better Behavior Wheel."
Also see our books for instilling good habits at a young age.